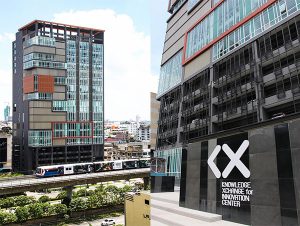 KMUTT Knowledge Exchange for Innovation Center (KX)
KMUTT has designated the KX building to be the center for facilitating the exchanges of knowledge, technology, and innovation capability between, and among, KMUTT and its academic allies, forward-looking manufacturing enterprises especially SMEs in the strategic sectors, and public organizations, in order to elevate Thailand's technological and innovation competency, while KMUTT's faculties and students are granted with opportunities to gain experiences from "Real World" issues, and opportunities to work on real demand-driven researches.
Location
King Mongkut University of Technology Thonburi (KMUTT) has a city campus in form of a 20 floors building (including the basement) on Krung Thonburi road near the BTS Skytrain "Wong Wian Yai" station, just across the Chao Phaya river from the Sathorn road via the Taksin bridge. Its total area is approximately 28,000 square meters, or around 1,300-1,400 square meters per floor.
Directions Map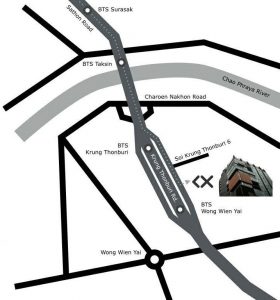 Transportation
By BTS SkyTrain to KX
Take the BTS Skytrain to either Krung Thon Buri or Wongwian Yai BTS station. From either station, it is a short walk of less than 500 m on Krung Thonburi Road to the KX building.
By Taxi to KX
The following is the address in Thai:
อาคารเคเอกซ์ มหาวิทยาลัยเทคโนโลยีพระจอมเกล้าธนบุรี
110/1 ถนนกรุงธนบุรี แขวงบางลำภูล่าง เขตคลองสาน กรุงเทพฯ
Taxi from the Airport to KX
Bangkok has two international airports, Suvarnabhumi International Airport (BKK) to the west of the city which handles most of the international flights, and Don Mueang International Airport (DMK) to the north of the city which handles low-cost carriers.
Here is some informal information about taking a taxi from Suvarnabhumi International Airport (BKK): "A public (metered) taxi will cost about 500 Baht, including toll costs to come to the main KMUTT campus or near the venue KX Building. Note that there is a 50 Baht surcharge for taking a taxi from the airport and the passenger needs to pay all tolls. Actually, it's a good way to break a large bill by paying toll with it and getting change. After arriving at the airport make your way to the first floor (one floor down after exiting the luggage area) and use the automated machines to obtain a queue ticket for the taxi. There is a surcharge for a larger taxi that can hold more luggage; follow the appropriate sign for the correct queue."
From Don Mueang International Airport (DMK) the fare to get to your hotel or to KX/KMUTT is lower, and should be in the vicinity of 300 Baht. For more information refer to this guide on Don Mueang Airport Transportation.